It was a mono player, but we discovered that Philips mounted a ceramic stereo cartridge in it.
So we soldered two extra wires on the cartridge and led them to the auxiliary input of my transistor radio and we had stereo!
We did that with a couple of friends, all of us had a cheap Philips mono player with the same cartridge.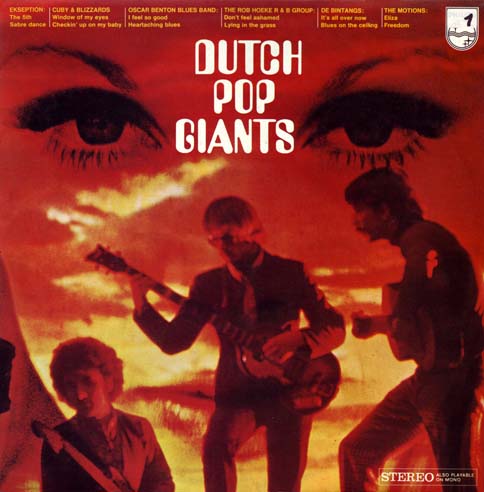 On this lp all, for that time, well known dutch bands who played in pop/rock/blues style. I think, looking back, Rob Hoeke r&b group was highly underrated, notice the bass player and singer. They had the wrong name...
Side one:
1 Ekseption - The 5th
2 Cuby & Blizzards - Window of my eyes
3 Oscar Benton blues band - I feel so good
4 The Rob Hoeke r&b group - Don't feel ashamed
5 De Bintangs - It's all over now
6 The Motions - Eliza
Side two:
1 Cuby & Blizzards - Checkin' up on my baby
2 Oscar Benton blues band - Heartaching bkues
3 The Rob Hoeke r&b group - Lying in the grass
4 De Bintangs - Blues on the ceiling
5 The Motions - Freedom
6 Ekseption - Sabre dance
[Listen low quality]
[Download high quality]
Back
Next