W.A.T.
(from World According To) were a Dutch trio based on sequencers, slide guitar and a thin female voice.
Ad van Meurs: guitar, voice
Ankie Keultjes: synthesizer, voice
Frank Van Nieuwenhof: bass guitar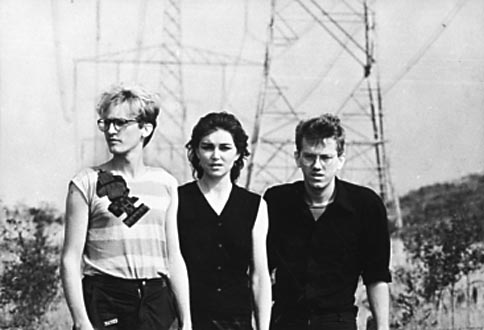 They played on Pandora's Music Box, a new wave festival in de Doelen in Rotterdam, 2-3-4 September 1983. A lot of new wave acts played there and a lot is broadcasted on Dutch public radio
(and I
taped
it):
Siouxsie & Banshees, W.A.T., Durutti Column, Die Haut (& Nick Cave), Howard Devoto, S.P.K., The Box, Peter Hammill, Skeleton Crew,
Jah Wobble
, Spear of Destiny, Clock DVA, Armoury Show, Kowalsky, Danse Society, Fad Gadget, TC Matic.
In 1984 the festival was organized again. I don't have recordings of that edition.

De Doelen, Rotterdam
1 - Art Lovers [4:52]
2 - Defreeze [4:01]
[Listen low quality fragments]
[Download high quality]
Back
Next