my post of Supersister live in Meerlo
I mentioned that Genesis was playing at that festival too. A
Genesis fan club
picked this up, they have a list of all the Genesis performances, but the concert at the Midsummer Pop Festival 1972 in Meerlo was not on that list, even not on the
gig list of Phil Collins
. After some investigation they managed to find a copy of a collage with a newspaper print of a photo of the appearance of Genesis on stage in Meerlo, July 8th 1972, made by Joeps van Hees!
So I was not hallucinating (and neither did my
ticket
).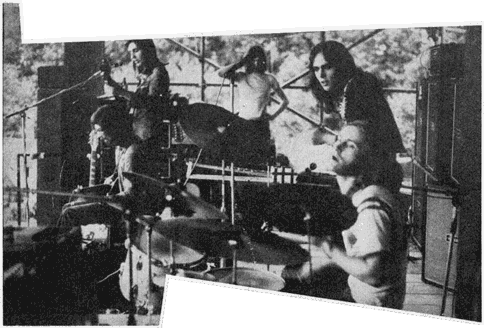 Their request is:
Does anybody have more photos or recordings of the
performance of Genesis in Meerlo
?
If so, or you know a nice story about it, please mail pcn<at>live<dot>nl or leave a comment
here
.
They will be grateful and probably reward you with a rare recording of Genesis, just as they gave me.
And they didn't mind if I shared this recording, so here it is.
In Concert
March 2, 1972, Paris Theatre, London
- The Fountain Of Salmacis [7:43]
- The Musical Box [9:39]
- The Return Of The Giant Hogweed [7:58]
Top Gear
September 25, 1972, BBC Studio, London
- Twilight Alehouse [7:56]
- Get 'em Out By Friday [8:41]
- Watcher Of The Skies [7:38]
[Listen low quality fragments]
[Download high quality]
Back
Next