all the work of A Certain Ratio
is issued on cd. Almost. I have some recordings that are only available on 12". I will post them and I start with Greetings Four. The first song, The Runner, is never released on cd. The 12" came out on The Italian label Materiali Sonoti, based in San Giovanni Valdarno (Greetings from S.G.V. says the inner sleeve). Management, design and photos are done by Italian people. It was recorded in England, 13/14 March 1986.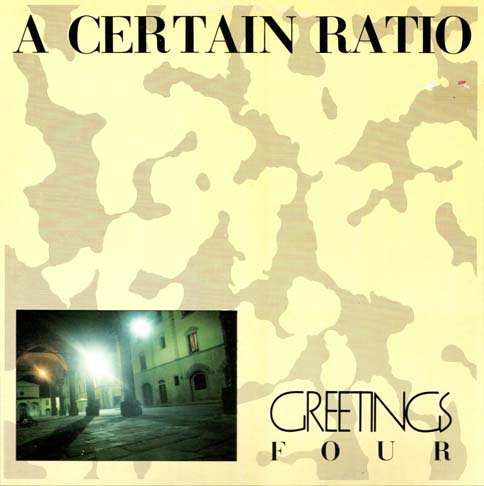 1 The Runner [5:09]
2 Inside [3:58]
3 Bootsy [4:32]
4 Fever 103° [5:48]
In
this clip
you can see them playing Inside in 1985 with Donald Johnson on bass (usually he plays the drums) and Martin Moscrop (guitarist) on drums.
I saw
A Certain Ratio
once in Doornroosje in Nijmegen, they just (or maybe just not) released their first lp (25-10-1980? Then I knew them only from the 12" Flight). Very impressive. It was a strange combination: all those shy white guys fiddling on their instruments and effects, making a kind of soundscape, and the black funky drummer who hold this all together.
[Listen low quality fragments]
[Download high quality]
update:
The Runner is available on sampler
The Greetings Compact
.
Back
Next