A: WE ARE DEVOTEES!
This LP with
Devo
covers was compiled from tapes sent in by
KROQ
listeners during the summers of 1978 and 79. The contest was short of winners so
Bronson
and
Foos
did the
Bakersfield group
to pad it out.
It was this last band that made me visit Bakersfield (CA). But in the local bar no one had ever heard of the
Boogie Boys
.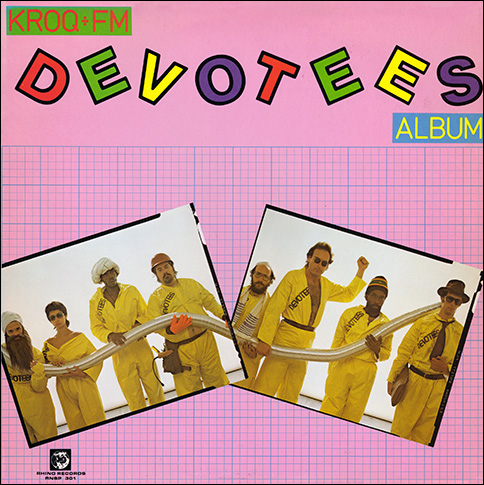 Side one:
1 Knife Lust - Shrivel Up
2 Jupiter - Mongoloid
3 The View - Uncontrollable Urge
4 The Firemen - Jocko Bozo
5 The Deadliners - Mongoloid
6 The Bakersfield Boogie Boys - Okie From Muskogee
Side two:
1 Lonnie And The Devotions - Jocko Homo
2 The Doguloids - Blockhead
3 The Touch Tone Tuners - Jocko Homo
4 Y-22 - Music Inspired By Space Junk
5 The Sordes - Mongoloid
6 Bohonian Plimquins - Gut Feeling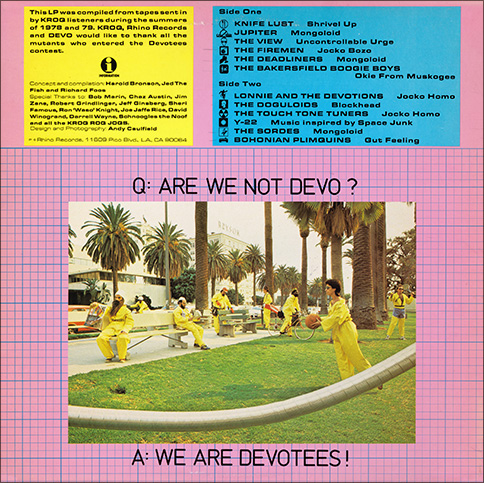 [Listen low quality]
[Download high quality]
Next