Brainbox
. But there are musicians that became widely known in other formations.
Jan Akkerman
plays with Ritmo Natural. He just had left Brainbox and after this recording he formed Focus.
Hans Dulfer
(father of Candy Dulfer who played with Prince), also member of Ritmo Naturel, is a successful jazz saxophonist who had a big hit in Japan with Dig! in 1996.
The members of Slight Ache became very famous comedians in the Netherlands named
Neerlands Hoop
(Dutch Hope).
Continental Uptight Band had some commercial success in the Netherlands.
Never been famous Island is hard trying sounding like Led Zeppelin's Whole Lotta Love.
The lp of
Ahora Mazda
is
available on cd
.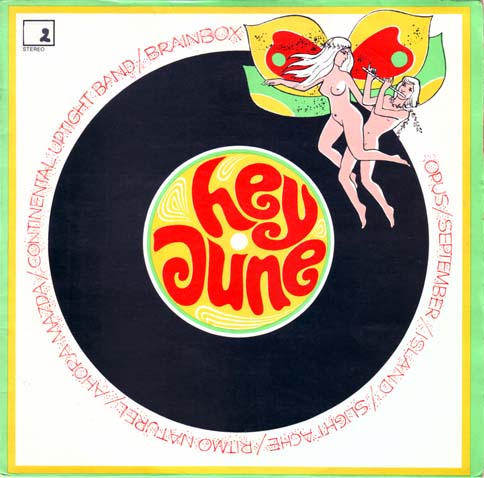 To get some attention, the lp was named after the Beatles hit Hey Jude.
This was my second lp and I got it from
my mother
.
Side one:
1 Brainbox - To you [3:24]
2 Opus - Baby come on [4:48]
3 Slight Ache - Second flood [3:00]
4 Ahora Mazda - Fallen tree [9:10]
Side two:
1 Continental Uptight Band - Please sing a song for us [2:33]
2 September - Litle sister [3:39]
3 Island - Super woman [3:43]
4 Brainbox - So helpless [2:35]
5 Ritmo Naturel - Morning after the third [8:29]
You can find a lot of information, also about this album, on the Dutch Progressive Rock site.
[Listen low quality]
[Download high quality]
Back
Next