Library music is produced to be used in radio and television shows that cannot afford their own composer. It came out on lp's and was never available for the public. The lp's were bought by broadcast companies and stood in the library, waiting...
Until the libraries were cleaned up and all the lp's came on second hand markets.
Luke Vibert
made a nice collection of this kind of music in his
Nuggets
-cd series. And
Barry 7
with the
Connectors
series did too.
Well known library music makers are
Roger Roger
,
Nino Nardini
and
Cecil Leuter
(=Roger Roger).
Here I post an unknown lp from the French Mondiophone label. I could not discover when it was made, but I think early 70's, because
Popcorn
is used as a reference. These are all jingles, not background music. And all 24 have different versions with different lengths from 2 to 30 seconds.
Most interesting is side two where a synthesizer was used to produce the jingles.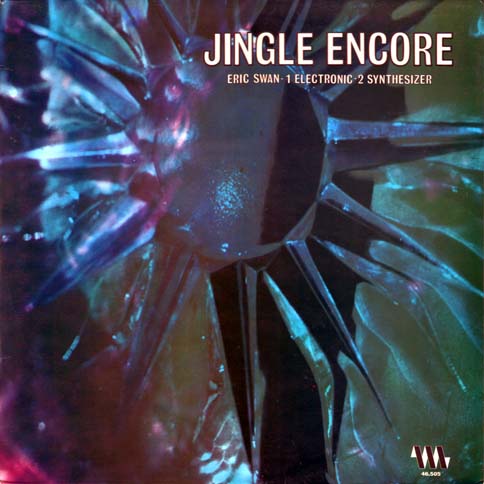 The names of the tunes are a description of the kind of music. This made it easier to choose from. The titles are translated from French.
Side one:
01 - Amaible gavotte
02 - Lightly amusing
03 - Lightly amusing
04 - Light polka
05 - Mini moto perpetuo
06 - Little march, delicate and rustic
07 - Lullaby in 3/4 time
08 - Rural 3/4 (with birds) (without birds)
09 - Comical miscelaneous
10 - Nursery music with soft flutes
11 - Barrel organ waltz
12 - Barrel organ march
Side two:
13 - style Pop corn
14 - Lento grotesque
15 - style Pop corn with gimmicks
16 - Comical slow march
17 - style Pop corn
18 - Fast staccato 6/8 with a whimsical flavour
19 - Mechanical 3/4
20 - Nonchalant with jew's harp effect
21 - Mechanical 2/4 with gimmicks
22 - Medium tempo with gimmicks
23 - Gallopade with gimmicks
24 - Leisurely ramble
[Listen low quality]
[Download high quality]
(download links may not work with translated pages, for downloading go to the original site)
Back